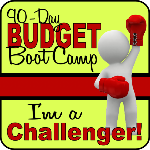 Challenge #7
Start a grocery price book for the products you most often buy and gather standard prices for your most frequent purchase. Start tracking how low prices go. Discuss if this was time consuming. Do you feel that it's worth the time? Do you already track prices? Do products you buy go on sale often? Plus your experience and if you were successful or not.
At first I was confused about why I was doing this & how to actually do it but after looking at the samples Beth provided for us I understood better what I was doing & the goal is to track prices so that when the prices do hit rock bottom I can stock up on those items for the savings...........this is an AWESOME concept!! I have started my price book in the form of a spreadsheet since I love to use them when at all possible & I actually keep all of our receipts so I was decided to start it from 2 weeks ago; from looking at the 3 weeks that I have on the spreadsheet I am not seeing much of a difference or a drop in price but am hopeful that it will be seen very soon. I have to say that it was pretty time consuming at first but I guess that was just getting the spreadsheet set up so I am hoping now that I just have to plug in the numbers that it will be a breeze!

As suggested I also do take a notebook with me to the store so that I can get prices on the things that I am not buying that week but can still track their prices. I am actually more excited about this challenge than any of the others for some reason; I am not sure if it because a spreadsheet is involved or if it is because I feel like I really can make a huge difference in our budget with this one...........in any case I am tracking prices with ever trip to the grocery store & will keep you all posted on when I find my 1st rock bottom price drop & purchase!! Happy Savings Everyone :)
Challenge #8
Make an extra meal and freeze it to use when you don't feel like cooking or are short on time. Do you think this added extra time or saved you time in your cooking? Benefits? Pros/Cons? Plus your experience and if you were successful or not. We'll also be discussing splitting bulk purchases into family-size portions for freezing.