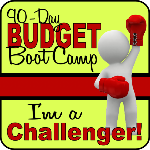 Challenge #6
Buy only products on sale and that you have a coupon for, excluding dairy, meats, and produce which often offers no coupons. For these products, you can only buy products on sale. Discuss if this was a challenge for you? Did it effect the quality of food you purchased? Plus your experience and if you were successful or not.
This was the wrong week for this challenge since my family was in town for Brayden's 1st birthday & also for his party this past Sunday & it was a cook out so alot of meat was purchased; we did well on all the meats because we went to Costco & I guess we did well on most of the other stuff that we needed as well since most of what was purchased was Kroger brand however I never realize just how picky people are about what & how they eat certain things until we had 6 adults, 3 kids & 4 dogs here this past week.
From the specific "Dukes" mayo my pops loves on his sandwiches, to the name brand Miracle Whip that makes my moms potato salad just right; from the Dr. Pepper that my sister loves to sip all day, to the "Club" crackers that she eats when nothing else will do; we all have our little things that we have to have & when there is that many people I guess it all just adds up! I don't think that indulging in specifics is bad all of the time but if you look at the cost comparison you will see a big difference in the pocket book over time. I am happy that I can eat the "off" brands & not really care but I do have to admit I made myself a sandwich to take to work today & used the "Dukes" mayo on it & it was I think the best sandwich I have had in quite a while!
I m really going to start looking for more specific coupons so that I can stick to the budget I have laid out for our family but indulge in the name brands when ever possible............Lance is going to love this!!!
What will challenge us next??
Challenge #7:
Start a grocery price book for the products you most often buy and gather standard prices for your most frequent purchase. Start tracking how low prices go. Discuss if this was time consuming. Do you feel that it's worth the time? Do you already track prices? Do products you buy go on sale often? Plus your experience and if you were successful or not.