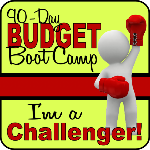 Beth
&
Clair
have put together a challenge that I could not pass up! Lance & I have been talking, fighting & discussing our budget for a while now & this seemed like the perfect thing to give our budgeting skills a much needed jump start! We have a lot going on right now & all of these the things are affecting our bottom line budget on a day to day basis; I promise that I will blog about everything very soon but just can't right at this moment!
Lance & I do take our lunches most of the time during the week but when he has a night off we get lazy & order in or go out to dinner & it always disgusts me when the check comes! We tend to really over spend on things that we don't really need on the weekends & I have to admit he & I both love to shop; whether it be for me, him, B, the house, the dogs..........we can find a way to always spend way to much money on the weekend days & I would really love to get a better handle on that. I do our grocery shopping on Saturdays but need to get better at writing out our list because I seem to have to go to the store at least 2-3 times during the week. I don't use coupons & I know that they help, I do a little comparison shopping but not like I should, over all I think that this is going to be a great way for Lance & I to both learn how to really save & budget!!
I am excited to get started on our budgeting & will keep you guys updated with how it is all going!