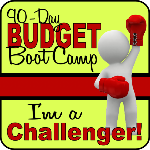 Over the next 12 weeks (I will have a different challenge each week) while doing this boot camp my goals are as follows:
1. Spend no more than $80 at the grocery store when I go on Saturdays & NOT go for anything during the week. That is total spending for Lance, myself, B & the pups.
2. Stop giving into my impulse buying tendencies; especially things that I always pick up for
Brayden
that he doesn't even need or will never wear :(
I am not making any promises about his birthday though; I have been planning that for months now & think that I have done a pretty good job so far on not going crazy expense wise.
3. Make, take & eat the lunches & dinners that I plan out for our family! This means no eating out; except for Sundays with Lance's mom & dad but they always pay so that really doesn't effect our budget....right?
4. Cut back on all of our current household bills wherever we can.
5. Clip & learn how to best use coupons like a mad woman; I know that people save a ton of money doing this but I just having figured out quite how they are doing it.
6. Lastly I want to really work on growing our savings account!!