As we are putting together Colton's nursery (more to come on that soon) we are also in the midst of purchasing everything else again as well..........& when I say everything I mean everything!! We were real smart & really thought that we were only going to have & want one child so we gave away everything as Brayden grew out of it & are now kicking ourselves in the behind for doing something so crazy. At the time it seemed like the right thing to do since everything was given to family friends that really needed it & what did we need to hang onto for right???
ANYWAY; how crazy is it that everything has changed in only 18 months?? Everything we did have is completely gone & has been replaced with the new & improved with what seems to be a new & improved price as well. It is very frustrating to have to repurchase everything but I am guess I am having a bit of fun too; I mean picking out swings & swaddles & bouncers & activity mats & all of the other things that we are going to need is pretty fun BUT which damn stroller do I use for 2 children????
This was the one we (I) almost 100% decided on since we did actually still have Brayden's Graco Car Seat: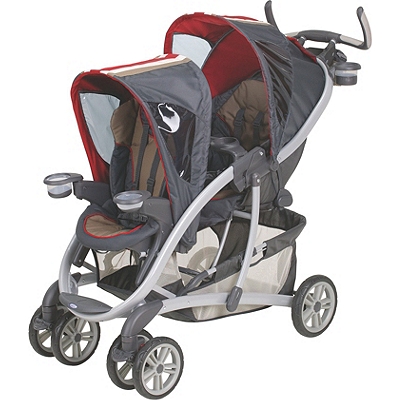 But then I found this one & it is compatible to the car seat that we have PLUS does so much more & even converts into a sit & stand for Brayden later on down the road...............
I am really at a loss & would love any input that you mother's of 2 or more might have for me; do the sit & stand strollers really keep the kids safely in the stroller??