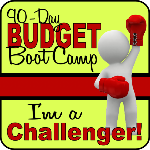 Think about what your family often purchases that puts a dent in your budget and try the store brand or generic version. Was it just as good? How much did it save you? Would you try more generics? Why or why do you not purchase generics? What things could your family buy in generic to save money?
I know that I am late posting this but I thankfully was able to complete this challenge before getting
sick 2 weekends ago
; this is actually something that I already do so this challenge was very easy for me! I have always shopped like this because I am not one of those people that has a problem with the "generic" food brands however Lance is. He swears that the name brand foods taste 100% better than the generic but I buy the generics anyway. I did our weeks shopping & did buy a few more things in the generic versions than normal & only spent $65 at the store!!
I have never really shopped any other way so I am not really sure of the saving aspect of doing this. I do know that the generic brands are not always the cheapest & I am sure that if I collected & used coupons could even get the name brand stuff that Lance likes so thankfully we are about to get into the coupon aspect of this boot camp!!

JUST AN FYI.........
I went to the store on Saturday & then got sick on Sunday; Lance dropped me off at home & had to go get my prescriptions filled at Kroger so he looked in the pantry to see if we needed anything.............$150 later he came home with every brand named product that you could possible dream of. I asked him why he bought all that stuff when I had just gone to the store & this was his answer: "We needed bread", I said "you bought a lot more than bread", He said " I had to wait for your medicine & was panic shopping until I could get home to you".

Sweet but boy did that panic shopping completely throw off my budget.........it actually just made this past weekends shopping list VERY short!!