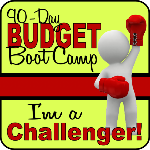 Does that title even make sense????
I have never actually written down our
weekly meal plan
; I have decided in my head a few times what I wanted to make & asked Lance what he feels like for dinner next week but had never put it down on paper & honestly I really did enjoy doing it. I thought that after the hard task of getting it written, printed & posted in our pantry that it would be easy to follow & stick too but at the end of day 6 of our 1st challenge & after 6 breakfast, 6 lunches, & 6 dinners The Goodson Family has failed at only one of each!! You would think that to be good right??
NOPE;
the ratio of 3 to 18 is pretty damn good but the saving over spending is where we failed so I would have to say we failed this challenge!!
Saturday morning we were supposed to have breakfast at home but I had to run out for milk & went right past Chick fil a & I swear that damn cow called out for me to drive thru.....it really did & it was the damnedest thing I have ever seen!! Saturday night Brayden stayed the night at his JuJu & PaPa house since we had plans to go to the lake so instead of pizza we went out to dinner & pick a place we hadn't been in forever but love & ended up spending
WAY TO MUCH
; it was so nice to have a dinner with my hubby but Lord have mercy it was kind of steep!! Lastly, Lance failed to grab his leftovers in the fridge so he ate out for lunch on Monday!!
When I added up what I spent at the grocery store for this weeks meal plan
PLUS
what we spent on eating out it is way above what I had planned for & so I will say it again we
FAILED
& I am pretty disappointed in us. It seems that every weekend our spending gets away from us & we really need to reel it in......ASAP!!! I am hoping that this week might be a bit easier since the 2nd challenge is to make & stick to a shopping list; I think that with the 2 combined we will have better success. I have already started next weeks meal plan & am hoping to save on the grocery list because alot of the stuff that is on it we already have it in our pantry or freezer............Wish us luck!!
Here is our posted meal plan: