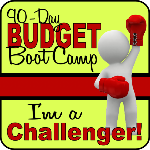 This week get a newspaper subscription and start collecting coupons for products you buy most often. Sign up for manufacturer newsletters/e-mails, look for coupons in the grocery store, sign-up for samples, and keep an eye out for hot coupon alerts. Discuss if you already collect coupons and where you typically get them. Or discuss if you found any new coupon sources, how time consuming it was collecting coupons, if the coupons you found seemed worth it, and where you found the best coupons.
I have slowly been signing up at some online sites & getting my coupon collecting organized but then being sick last week kind of through me off. I am slowly getting back in the swing of things & even managed to use a few of the coupons I already had collected from the Sunday paper this weekend at the grocery store. I also used some of the rewards that I received in the mail from
Babies R Us rewards
to get some stuff for Brayden's birthday taken care of.
I have recently learned & started to use the fact the you can add coupons directly to your Kroger plus card online & that way don't have to worry about loosing or forgetting them. The problem I am having with this is I forget what coupons are on there from week to week & always forget to check the site before I leave the house. I have been picking up the Sunday paper each week & do have a nice collection going; I tend to really look for coupons for household products like air fresheners, Febreeze plug ins (since I am addicted to them & have them in every room); shampoo, condish & cleaner since those are usually the more expensive things that I purchase.
This is really as far as I have gotten I think; I haven't really been able to put my all into this challenge because I was sick so I am planning on doing a combination of 4 & 5 this week so next week I promise that I will have a better challenge update!!