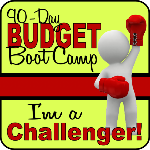 Organize Coupons
Now that you have your coupons, pick a way to organize them and start a system. Talk about the different organization systems you considered and show/describe the one you finally selected. How time consuming was it to first organize your coupons? Do you think it will get better now that you have a system in place? Pros/cons of the system you selected? Plus, discuss your experience.
I have my work cut out for me this weekend; I feel like I am so behind on the challenges & just need to get caught up ASAP. I guess ASAP would be in between the million other things I have to do to get ready for B's 1st birthday & party as well as get the house ready for 6 additional people & 2 additional dogs next week!! It is going to be a house full & I hope that I don't over stress as usual BUT it is going to be amazing having everyone here for Brayden 1st!!!
I promise that I will put my all into this challenge & I am hoping that I can save good bit on the stuff that we need for his party............keep your fingers crossed for me OK??